Къща за гости с автентичност и спокойствие на 15 км от Велико Търново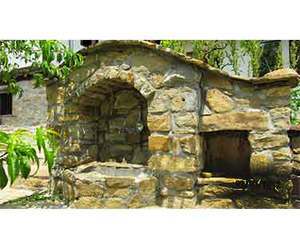 > Villa Girgina was built in 1896. by two brothers. In 2006, was acquired by a new owner who puts all his energy into restoring it and adapting it to a modern life - the cloisters are transformed into a tavern with a fireplace and the common room with pomegranates and jamals turn into bedrooms with a bathroom and a toilet. In 2008, the house is inherited by the current owners, who still try to preserve the spirit and heritage of Villa Girgina.
Restored in Renaissance style with a light admixture of modern, when you get inside from everywhere, you have a cozy atmosphere and a scent of wood. The silence around is magical. The calmness that drifts in the air is felt as soon as you cross the threshold of the wooden gate.
After the last reconstruction in 2016, Villa Girgina has 4 rooms, each furnished and decorated with individual style and very cozy, and 2 bathrooms with toilet, which are used for the number of rooms to be rented. The rooms can accommodate two to four people, whether adults or families with children. For the youngest, Villa Girgina has 2 baby cots with special orthopedic baby mattresses on Happy Dreams. Villa Girgina accepts pets in 3 of the rooms at its disposal, with special beds provided. The fourth room is reserved for people with allergies. Bathrooms are brand new. At Villa Girgina, we are extremely committed to hygiene and comfort. In order to contribute to this, we offer our guests a lavatory and a washing machine, as well as the opportunity to clean the rooms themselves if they do not want to pay extra cleaning outside the regular room. On the first floor of Villa Girgina there is a tavern, which gathers up to 20 people with a common kitchen for all guests - fully equipped for making delicious dishes. And for breakfast ... you can trust us!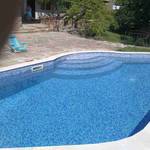 > Besides rooms for sleeping in Villa Girgina, there is also a Game Room and relax, especially cozy during the cold days and suitable for playing board games, or tea, coffee and sweet tales. We thought of the smallest ones: a safe cot filled with baby toys suitable for children under the age of 3, and a children's playground for the older ones. In case you want to take your teenager to rest, we have an excellent internet connection, TV and animation channels, and opportunities for paid entertainment such as horse riding, cycling, extreme walks to nearby monasteries, directions for exceptionally beautiful and romantic eco trails, and entertainment. And as we said romance ... one of the rooms of Villa Girgina is specially equipped for romantic evenings by the fireplace with homemade wine ...
Villa Girgina is waiting for you!
For the musicians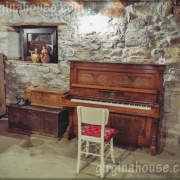 We also have something special for the guests who have the piano. The piano is high class and is located in our tavern - you can play and eat the whole company ...
Nearby beatuties
Amazing Krushuna falls - 15km. away from Villa Girgina
Natural fairytale: Dryanovo monastery - 20km from Villa Girgina
TSAREVETS - Fortress of the boyars - in Veliko Tarnovo city - 10km away from Villa Girgina
Veliko Tarnovo city - Top European City - 10km away from Villa Girgina